All About Primary 5/6
(2018 – 2019)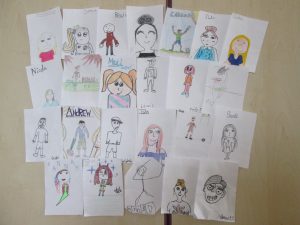 Location in West Linton Primary School – Room 9
Members of Primary 5/6:
Nicola
Sian
Anna
Jack
Ryley
Lewis
Ava
Andrew

Iamba
Millie
Sophia
Emily
Mae
Kate
StJohn
Caiden

Bronte
Isla
Duncan
Callum
Thomas
Hannah
Elodie
Benji
Our P.E. specialist is Mr Davidson and we will have P.E. with him on Mondays. Our Music Specialist is Mrs Inglis and we will have music with her on Tuesdays. Our Art specialist is Mrs Clifford and we will have art with her on Mondays.
Our Rights
We have the right to:
Feel safe and happy at school
Feel safe when we move around the school
Learn in an exciting class area
To expect that other people will share with us
The resources that we need
Work somewhere clean and tidy
Work in a classroom where people help each other
Get help if we need it.
Our Class Charter
In Primary 5/6 we promise to:
Say nice things.
Be helpful.
Be respectful.
Be loyal to your friends.
We will concentrate and try our best.
Keep hands, feet and objects to yourself.
Be inclusive.
At West Linton Primary School we have engaged with 'Curriculum for Excellence' and are providing experiences and opportunities for your child to become a successful learner, confident individual, effective contributor and a responsible citizen.
Pupils in P5/6 are working within the First and Second Levels of a Curriculum for Excellence. At the individual parental consultations in November and March, and through written reports and PLPs, we will give you an indication of the progress your child is making.
Language and Literacy
Reading

Our aims are that children enjoy reading and develop skills which help them to get the most out of the texts they read. Children will work individually and in groups and will be encouraged to read a variety of genres to develop their reading skills.
 In School
We will be developing skills in:
Finding and using Information; Understanding, Analyzing and Evaluating
At second/third level, children will be working on:
Following written instructions accurately.
Using strategies such as scanning or highlighting text to extract relevant information.
Using a variety of non-fiction – atlases, newspapers, encyclopedia etc.
Taking information and presenting it in different ways – graphs, sequences, grids and reports.
Using the library independently.
Enjoyment and Choice, Tools for Reading
Identifying main ideas and supporting details.
Making inferences – reading between the lines.
Building appreciation of character, style, atmosphere, plot.
We will use the following resources:
Text Books.
Group sets of Non-Fiction related to Social Studies topics.
Newspapers, posters, information leaflets, timetables etc.
At Home
Children should be encouraged to read daily. You can encourage them by:
Ensuring they read daily – switch off the T.V.
Talking to them about what they're reading – books, newspapers, magazines, recipes.
Taking them to the library or bookshop to choose books.
Writing

In School
We try to set writing tasks related to current reading, topics being studied, or events happening in school or at home. Whenever possible we try to give the children an audience for their writing, e.g. they might write a letter to thank a visitor who's come to talk to them, or write a book review for others to read.
Children will be working on:
Planning, drafting, editing and redrafting writing in a variety of forms –   letters, poems, stories, reports, posters, instructions, book reviews etc.
Adapting the style and form of their writing to suit the purpose and audience, e.g. using the correct format for a letter or poem.
Ensuring that writing is well-organised.
Using varied sentence structure; writing in paragraphs.
Punctuating sentences accurately using commas and question marks.
Spelling most commonly used words properly.
Conveying their thoughts or feelings.
Sharing learning intentions and success criteria.
At Home
You can help your child by encouraging them to write – letters, lists, and stories. Occasionally they will be asked to plan, draft or edit a piece of work at home.  You can help by discussing the work and encouraging children to edit and proof read their work.
Spelling
Using the Phonics International scheme and Frys common words, children will be developing their spelling skills through phonic sounds. Each week the children will be given a choice of words to practise at home based on the same phonic sound.
All children will learn a range of strategies to support and embed spelling rules and patterns.
At Home
Children will be asked to practise the words at home and have the chance to complete different tasks to help them learn the words. In addition, you can help by encouraging them to be curious about words – looking for others which follow the pattern, looking at words when they're reading, challenging them to spell words from lists. Keep revising earlier sounds.
Mathematics and Numeracy

The children will be actively engaged in mathematical activities, again whenever possible learning in a real life context. Most children will be working on Second/Third Level Numeracy in:
Number / Money / Measurement
Shape / Position / Movement
Information Handling
Problem Solving
At Home
You can practise number bonds, tables, mental arithmetic and practical tasks – try to keep it fun – make it a challenge, e.g.
how many ways can you make 150
puzzle sheets involving numbers
practical work involving measuring
drawing shapes / patterns
There are good websites to help reinforce number and maths such as Mangahigh, Woodlands School in Kent, mathsisfun.co.uk etc.
Social Studies, Science, Technologies and Interdisciplinary Learning

In School
We will be developing skills in:
Knowledge and Understanding
Planning
Collecting Evidence
Recording and Presenting
Interpreting and evaluating
Health and Wellbeing (including PE)
We will be ensuring that the children have a good understanding of the importance of keeping healthy emotionally, physically and socially and can identify ways of doing this. This will be embedded into the curriculum throughout the year.
Religious and Moral Education
The three main areas of study throughout primary school are: Christianity; World Religions; Development of beliefs and values.
Expressive Arts
Children will be encouraged to develop skills in art and craft, music, dance and drama. You can also encourage development in these areas at home. We believe that a successful home/ school partnership is the key to your child's enjoyment of and success in school.
A supportive, encouraging approach ensures that your child learns to enjoy learning!