Mrs. Sanderson and Dr. Todd
Primary 2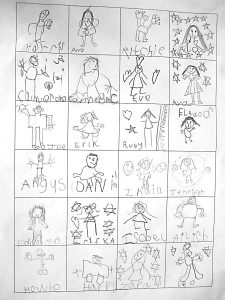 About Our Class
We are in Rooms 5 and 6 at West Linton Primary School.
Members of Our Class
Howie

Harris

Cameron G

Daniel

Ava

Eleanor

Ailish

Jennifer

Ritchie

Ruby

Edie

Erin

Cameron C

Joe

Leo

Amy

Eriska

India

Ada

Isobel

Eve

Angus

Zara

Harry
People who help us learn in class: Mrs. Sanderson (Monday and Tuesday) and Dr. Todd (Wednesday, Thursday and Friday)
People who help us at lunchtime and breaktime: Mr. Scott, Mrs. Walker, Mrs. Scott and the kitchen staff.
Our P.E. specialist is Mr. Davidson and we have P.E. with him on Wednesday morning. Our Music specialist is Mrs. Inglis and we have music with her on Friday morning.  Our Art specialist is Mrs. Clifford and we will have lessons with her on Monday afternoon on a four week rotation.
Our Class Promise has been discussed and developed by us and our teachers. It is how we behave towards others and wish others to behave towards us.
Our Class Promise is important to us and will be shared and agreed by any new children or adults working in our classroom.
Our Class Promise is clearly displayed in the classroom to help us remember and refer to daily.
OUR CLASS PROMISE:
We will:
We want to learn together in a happy, safe class so we can all be the best we can be.
Listen to each other
Be kind and include each other
Share ideas and work together
Care for our property and our environment
Be safe by walking in school, using equipment sensibly and keeping the class and corridors tidy
Be respectful of towards each other and recognise we are all unique 
Primary 2
At West Linton Primary School we use the Experiences and Outcomes from the Curriculum for Excellence to plan for your child to become a successful learner, confident individual, effective contributor and a responsible citizen. Throughout the year we ensure coverage of all curriculum areas. Some areas are taught discreetly each week: some are taught through interdisciplinary themes. At individual parent consultations in November and March, and through our Personal Learning Plans, we will share the progress your child is making using the National Benchmarks to inform our judgement.
LANGUAGE AND LITERACY
Reading
Our aim is for children to enjoy reading and develop skills which will help them to get the most out of the texts they read. Children will be working in groups, reading books and developing skills at their developmental stage. They will also be working on literacy across many areas of the curriculum and whenever possible in a real life context.
IN SCHOOL
We will be developing:
Reading Skills
Strategies to decode words, e.g. Chunky Monkey (post/man), Stretchy Snake (t-ie. l- igh –t ).
Knowledge of letter sounds to blend and read words, e.g ai, ay, oa, ow
Noticing and using punctuation
Fluency by reading a familiar text to get better at reading with accuracy, speed and expression
Reading for Information –
Recognise features of Non Fiction texts, e.g. Contents, Index
Begin to use the features of Non-Fiction texts to find information and know Non Fiction texts do not need to be read from beginning to end
Finding information from informational texts with / without teacher support
developing knowledge of alphabetical order and it usefulness to organise and find information
Understanding, Analysing and Evaluating Texts:
Show understanding by asking and answering questions
Understanding of a story by: using prediction, sequencing
Connect ideas in the text to own or similar experiences
Introduce Book Detective activities to help deepen understanding of the text
We will use the following resources:
Read Write Inc
Oxford Reading Tree
Group sets of graded fiction texts
Group sets of graded Non-Fiction related to Inter Disciplinary Learning topics
AT HOME
Children will be encouraged to read at home every day. You can support this by:
reading with them or to them
visiting the library or bookshop to choose books –
highlighting the variety of different texts that are read, e.g. comics, leaflets, signs, recipes, menus, maps, comics, songs, jokes/riddles, etc
WRITING
IN SCHOOL
We will support children in their writing by using Talk for Writing approach. Children will use visuals, props or actions to help rehearse what they will write about. This approach gives a structure and ideas for the children to write about enabling them to focus on learning how to communicate ideas using pictures and print. Writing tasks will be related to stories read in class, topics being studied, or events happening in school or at home.
We will focus on:
letter formation using Cursive handwriting style
beginning to plan writing
beginning to be able to organise and present ideas coherently
writing in sentences and having spaces between words
working on a piece of writing over more than one lesson
being able to express simple ideas and feelings
developing knowledge of different purposes of writing, e.g. recounts, instructions, reports, poems or stories
AT HOME
You can help your child by encouraging them to write – letters, lists and stories and by talking about what your child has written. On occasions we may send home 'talk tasks' to help prepare the children for class activities. We would be grateful if you could engage your child in discussion about these.
SPELLING
We will be teaching spelling as a whole school approach which includes using Phonics International resources. Spelling patterns and words will be introduced on a Monday and taught throughout the week using a variety of methods. The main method being used is pupils learning to spell by segmenting words into phonemes and grapheme marking these words using a sound chart to support them.  All children will learn a range of strategies to embed the spelling rules and patterns. The emphasis is on children being active in their learning.
AT HOME
Children will be asked to practise the words and complete activities from a task map. In addition, you can help by encouraging them to be curious about words – challenging them to think of other words which might follow the pattern, looking at words when they're reading and to keep revising earlier patterns.
A 1+2 LANGUAGE APPROACH
Children will continue learning French which will be embedded into classroom routines, e.g taking the register, saying the date and weather, classroom commands and praise.
MATHEMATICS AND NUMERACY
The children will be actively engaged in mathematical activities and connections made to real life contexts. The pupils will be working on:
Number / Money / Measurement
Shape / Position / Movement
Information Handling
Problem Solving
AT HOME
You can practise saying the number sequence forwards and backwards in 1's, 2's or 10's to at least 120, e.g. when going up or down steps or stairs, start from different numbers in the sequence – "Let's start counting from 32." Practise reading numerals by looking at food packaging, number plates, road signs. Cooking and following recipes with your child gives experience of reading and measuring weight, volume and awareness of time. Play board games with a dice or card games. Point out and draw shapes from buildings. Knowing and being able to recall different ways to make 5 or 10 is part of the foundation of developing mental calculation strategies. There are good websites to help reinforce Numeracy and Mathematics, e.g. Woodlands School in Kent, Topmark.com, primaryresources.co.uk.
SOCIAL STUDIES, SCIENCE, TECHNOLOGIES AND INTERDISCIPLINARY LEARNING
IN SCHOOL
We will be developing skills in:
knowledge and understanding
collecting evidence
recording and presenting
interpreting and evaluating
HEALTH AND WELLBEING (including 2hrs of PE)
We will be ensuring that the children have a good understanding of the importance of keeping healthy emotionally, physically and socially and can identify ways of doing this. This will be embedded into the curriculum throughout the year. Our P.E. days will be Wednesday (with Mr Davidson) and Thursday (with Dr Todd).
RELIGIOUS AND MORAL EDUCATION
The three main areas of study throughout primary school are: Christianity; World Religions; Development of beliefs and values.
EXPRESSIVE ARTS
The Expressive Arts – Art and Design, Music, Drama and Dance are at times taught discreetly and at other times used to enhance interdisciplinary learning.
We believe that working in partnership is the key to your child's achievements and success. A supportive, encouraging approach ensures your child enjoys learning.
We look forward to working with you