The life of a school ebbs and flows and changes occur each session. This week we welcomed our new permanent cook, Alison Bell, to West Linton at the same time as we advertised for a new DHT. Mr Elliott is leaving us in December for a teaching post in West Lothian and will be sadly missed. We know that this is a new post Mr Elliott is really excited about and we look forward to our search for his replacement.
On Thursday we celebrated National Mentoring Day by supporting the work of the Peeblesshire Youth Trust (PYT) through a buddy up day. Each of the classes worked with another class during the day on a variety of learning experiences – for example P6 spent time playing with the ELC children in their setting before welcoming them to their classroom. The P6s then read stories which the nursery children had chosen to their buddies. Of course our P6s will be buddies next session to the ELC children when they join P1 so the process of transition begins many months before starting school! All of the classes enjoyed the pairing up and we were delighted to be supporting the valuable work of PYT.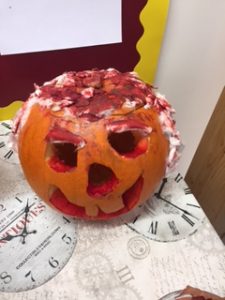 Step aside Bake Off and welcome in The Great West Linton Carve Off! Organised by the P7 Ministers for Competition the children amazed us all with their pumpkin carving creations! this was a great event and all of our pupils enjoyed viewing the entries. Well done to the "Ministers for" the first of their competitions and really well organised.
Finally our week concluded with two super performances from P4 of their Climate Assembly – firstly to family members and then to the whole school. We all enjoyed finding out about the learning which has been happening in class – what weather conditions to expect in each climate, clothing to wear, food available there and indigenous animals too. The group dramas were well thought out and accompanying facts projected throughout the assembly very informative. Thank you P4 for a super way to end the week!