Welcome to Primary Five
with Miss Skinner
2018 – 2019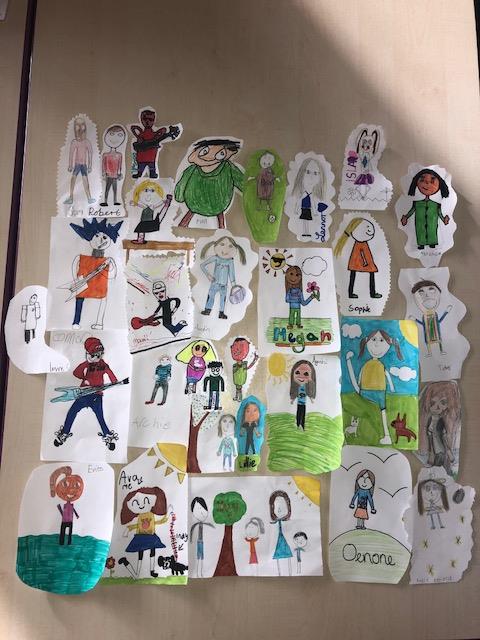 Members of Primary Five
We have 31 pupils in our class.
| | | | | | |
| --- | --- | --- | --- | --- | --- |
| Toby | Finn | Sam | Zennor | Ivy | Lewis |
| Jack | Brogan | Ayushi | Maxi | Archie | |
| Sophie | Ben | Dougal | Jake | Evita | |
| Megan | Thomas | Lillie | Robert | Abraham | |
| Austin | Lucy | Isla | Katie | Oenone | |
| Bea | Lacey | Connor | Morven | Ava | |
People who help us in and out of the classroom
Ms Curson – Head Teacher.
Mrs Saxon – Depute Head Teacher.
Mrs Motley – Principal Teacher and Primary Four teacher.
Mrs Denson – Learning Support Teacher).
Mrs Windgate, Mrs Welsh and Mrs Brown – Additional Needs Assistants.
Mrs Walker – Office and First Aid
Mr Scott – Janitor
Specialists
Mr Davidson – P.E. every Monday.
Mrs Clifford – Art on Mondays (4 week blocks).
Mrs Inglis – Music every Friday.
Expectations
Our classroom charter has been discussed and developed by the children by researching the UN Rights of the Child. It is a record of how we behave towards others and wish others to behave towards us. It applies to all people who come into our class and will be used until the end of the school year.
Our class charter is clearly displayed in the classroom, so children can remind themselves of these at any time. Every child has agreed to the charter and created an 'Under the Sea' character to represent this.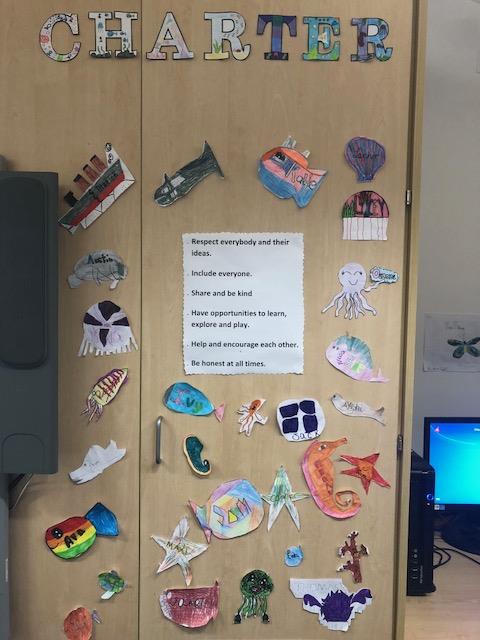 Respect everybody and their ideas.
Include everyone.
Share and be kind.
Have opportunities to learn, explore and play.
Help and encourage each other.
Be honest and truthful.
Respectful Relationships
Our behaviour management policy is based on our class charter and our promises. Our respectful relationships are established upon mutual trust, honesty, kindness, consideration and fairness, bringing out the best in those involved ensuring a restorative conversation takes place to remind pupils of the promise made in our class contract.
Curriculum
At West Linton Primary School we have engaged with 'Curriculum for Excellence' and are providing experiences and opportunities for your child to become a successful learner, confident individual, effective contributor and a responsible citizen. Pupils in P5 are working within the First/Second Level of Curriculum for Excellence. At the individual parental consultations in November and March, and in written reports in June, we will give you an indication of the progress your child is making. There will be further detail on what will be covered in each curricular area in the termly Curriculum Overviews.
Partnership
We believe that a successful home/ school partnership is the key to your child's enjoyment of and success in school. A supportive, encouraging approach ensures that your child learns to enjoy learning.
We look forward to working with you this session.
Language and literacy
Reading
Our aims are that children enjoy reading and develop skills which help them to get the most out of the texts they read. Children will work individually and in groups and will be encouraged to read a variety of genres and texts to develop their reading skills. We will also be working on literacy across many areas of the curriculum and whenever possible in a real life context.
Finding and using Information; Understanding, Analyzing and Evaluating
Using strategies such as scanning or highlighting text to extract relevant information.
Following instructions accurately.
Using a variety of non-fiction – atlases, newspapers, encyclopedia etc.
Taking information and presenting it in different ways – graphs, sequences, grids and reports.
Using the library independently.
Enjoyment and Choice, Tools for Reading
Showing understanding of the main ideas and supporting details.
Making inferences – reading between the lines.
Building appreciation of character, style, atmosphere and plot.
Building vocabulary; using a variety of skills to decode words accurately.
Reading aloud fluently with expression.
Recalling more complex sequences; prediction.
Being able to identify features of different types of text.
At home
Children should be encouraged to read for enjoyment at home. You can encourage them by:
Ensuring they read regularly – switch off the computers, music and T.V.s.
Talking to them about what they're reading.
Taking them to the library or book shop to choose books.
Reading with them as well as reading to them.
Writing
We try to set writing tasks related to current reading, topics being studied, or events happening in school or at home. Whenever possible we try to give the children an audience for their writing, e.g. they might write a letter to thank a visitor who's come to talk to them, or write a book review for others to read.
Children will be working on:
Planning, drafting, editing and redrafting writing in a variety of forms –   letters, poems, stories, reports, posters, instructions, book reviews etc.
Adapting the style and form of their writing to suit the purpose and audience, e.g. using the correct format for a letter or poem.
Ensuring that writing is well-organised.
Using varied sentence structure; writing in paragraphs.
Punctuating sentences accurately using commas and question marks.
Spelling most commonly used words properly.
Conveying their thoughts or feelings
At home
You can help your child by encouraging them to write, for example letters, lists, recipes, stories. You can help by discussing the work and encouraging children to edit and proof read using a dictionary.
Spelling
We will be teaching spelling as a whole school approach which includes using Phonics International resources. Spelling words will be introduced on a Monday and taught throughout the week using a variety of methods. The main method being used is pupils learning to spell by segmenting words into phonemes and grapheme marking these words using a sound chart to support them. All children will learn a range of strategies to embed the spelling rules and patterns. The emphasis is on children being active in their learning!
At home
You can help by encouraging them to be curious about words – looking for others which follow the pattern, looking at words when they're reading and challenging them to spell words from lists. Encourage your child to use the strategies they have learned in school and to use their sound chart.
Mathematics and numeracy
The children will be actively engaged in mathematical activities, again whenever possible learning in a real life context. At First/Second Level the children will be working on:
Number / Money / Measurement
Shape / Position / Movement
Information Handling
Problem Solving
At home
 Children who succeed at maths are usually the ones who enjoy it most, so remember – maths is fun! You can practise number bonds, tables, mental arithmetic and practical tasks – try to keep it fun and as a shared activity. Once children have a good understanding of numbers and counting they can start to use maths to solve practical problems – and apply their thinking to the real world!
How many ways can you make 150? Use all four operations.
Puzzle sheets involving numbers.
Real life use of maths, for example measuring, weighing, money, time ect.
Drawing shapes/patterns.
Social studies, science, technologies and interdisciplinary learning
We will be developing skills in:
Knowledge and understanding.
Planning.
Collecting evidence.
Recording and presenting.
Interpreting and evaluating.
At home
You can look for information related to the topic being studied and discuss what the children are doing. You can look for books, websites or objects which would be useful for the topic and encourage your child to select relevant information.
Health and wellbeing (including PE)
We will be ensuring that the children have a good understanding of the importance of keeping healthy emotionally, physically and socially and can identify ways of doing this. This will be embedded into the curriculum throughout the year.
Religious and moral education
The three main areas of study throughout primary school are: Christianity; World Religions; Development of beliefs and values.
Expressive arts
Children will be encouraged to develop skills in art and craft, music, drama and dance. You can also encourage development in these areas at home.