Mrs Russell and Mrs Scott
Primary 3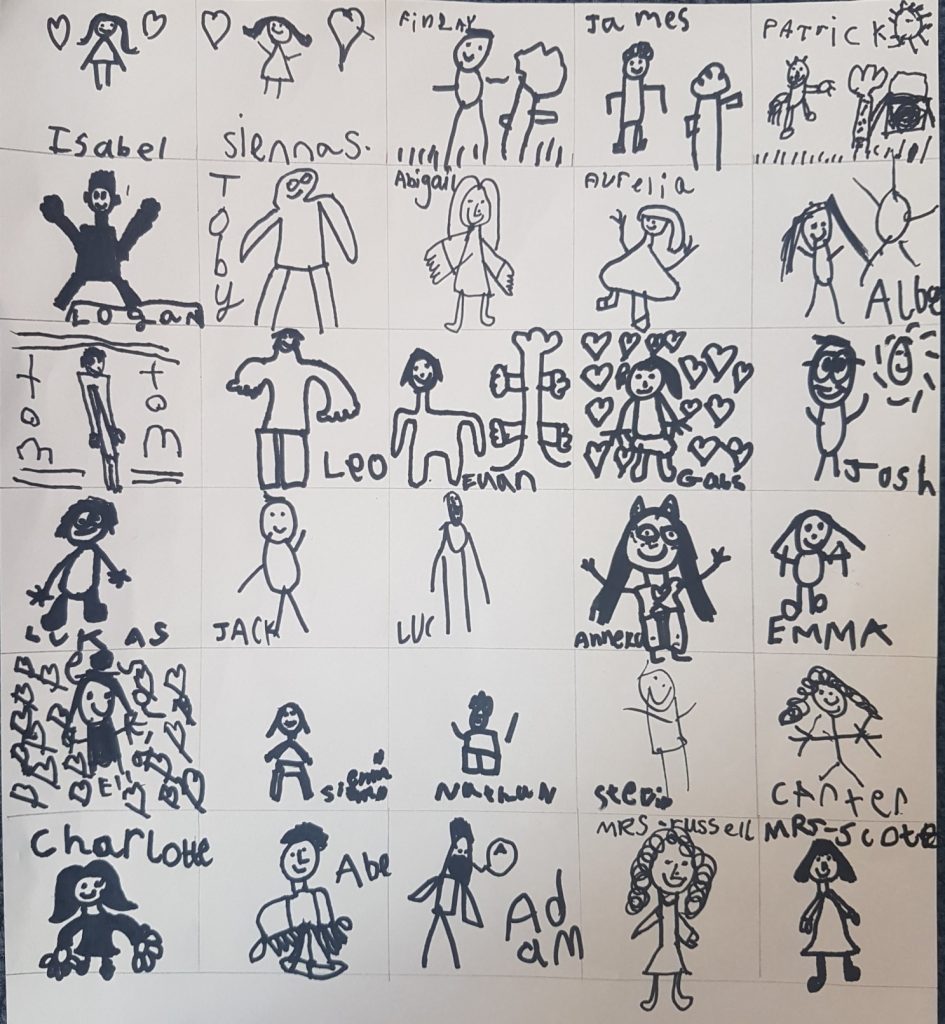 About Our Class (2018-19)
We are in Room 1 at West Linton Primary School
Members of Our Class
Abigail

Finlay

Charlotte

Alba

James

Sienna S

Tom

Sienna H

Adam

Jack

Emma

Aurelia

Lukas

Abe

Anneka  

Ella Rose

Logan   

Luc 

Euan

Isabel

Nathan

Gabriella

Leo

Patrick

Steven

Carter

Toby

Joshua
People who help us in class:  Mrs Russell and Mrs Scott
People who help us at lunchtime and breaktime:  Mr. Scott (janitor), Mrs Walker, Mrs Scott and the kitchen staff.
Our P.E. specialist is Mr. Davidson and we have P.E. with him on Wednesday mornings.
Our Music specialist is Mrs. Inglis and we have music with her on Tuesday morning.
Our Art specialist is Mrs. Clifford and we will have lessons with her on Monday afternoon on a four week rotation.
Our Class Promise
Our Class Promise has been discussed and developed by the children and their teachers in Primary 3.  It is a record of how we behave towards others and wish others to behave towards us.
It applies to all people who come into our class and will be used until the end of the school session.
Any new children or adults entering our classroom will be taken through the agreement by a classmate, who will answer questions and explain the rights, responsibilities and rules more fully.
Our Class Promise is clearly displayed in the classroom to help us remember and refer to daily.
Listen to others

Be welcoming

Be the best we can be

Look after each other and our environment

Be nice, kind and respectful

To work together
Primary 3
At West Linton Primary School we have engaged with 'Curriculum for Excellence' and are providing experiences and opportunities for your child to become a successful learner, confident individual, effective contributor and a responsible citizen.  At the individual parent consultations in November and March, and through our Personal Learning Plans we will give you an indication of the progress your child is making.
Language and Literacy
Reading
Our aims are that children enjoy reading and develop skills which help them to get the most out of the texts they read.  Children will be working in groups, reading books and developing skills suited to their reading level.  They will also be working on literacy across many areas of the curriculum and whenever possible in a real life context.
In school
We will be developing:
Reading Skills
Building phonic skills – blending sounds – e.g. 'tra', 'ou'
Using a variety of skills to decode words – e.g. being able to segment words – spell-ing, play-ful
Following punctuation in reading aloud and reading with expression
Discussing a story confidently; sequencing a story; prediction
Introduction of Book Detective activities to help deepen understanding of texts
Reading for Information
Finding information from informational texts with / without teacher support
Reading independently for instructions
Using the features of non-fiction to texts to aid information retrieval
Using key information to answer questions and create own texts
Creating Texts
Showing understanding of the main ideas
Being aware of the characteristics of fiction, non-fiction and poetry
We will use the following resources:
Read Write Inc
Novels ('Chapter' books)
Group sets of fiction which we have graded
Group sets of Non-Fiction related to Inter Disciplinary Learning topics

At Home
Children will be encouraged to read at home every day. You can encourage them by:
ensuring they read regularly
talking to them about what they're reading – books, newspapers, magazines, recipes,   instructions – anything!
taking them to the library or bookshop to choose book
reading with them or to them
Writing
In School
We try to set writing tasks related to topics being studied, or events happening in school or at home.  Whenever possible we try to give the children an audience for their writing, e.g. they might write a letter to thank a visitor who's come to talk to them, or write a story to be displayed for others to read.
Pupils will be working on:
Cursive handwriting skills; joining letters
Developing ability to organise and present ideas coherently
Being able to express simple ideas and feelings
Beginning to plan, draft and edit writing;
Writing in different forms – lists, letters, poems, reports, stories
Working on alphabetical order; developing knowledge of grammar – e.g. nouns, verbs
Writing in sentences; Working on a piece of writing over more than one session
At Home
You can help your child by encouraging them to practice cursive handwriting and to write – letters, lists and stories.    You can help by discussing the work and encouraging children to edit and proof read.  On occasions we may send home 'talk tasks' to help prepare the children for class activities. We would be grateful if you could engage your child in discussion about these.
Spelling
We will be teaching spelling as a whole school approach which includes using Phonics International resources. Spelling words will be introduced on a Monday and taught throughout the week using a variety of methods. The main method being used is pupils learning to spell by segmenting words into phonemes and grapheme marking these words using a sound chart to support them.  All children will learn a range of strategies to embed the spelling rules and patterns. The emphasis is on children being active in their learning!
At Home
Children will be asked to practice the words at home and complete activities from task map. In addition, you can help by encouraging them to be curious about words – looking for others which follow the pattern, looking at words when they're reading, challenging them to spell words from lists. Keep revising earlier patterns.
Mathematics and Numeracy
The children will be actively engaged in mathematical activities, again whenever possible learning in a real life context.  The pupils will be working on:
Number /Money /Measurement
Shape /Position /Movement
Information Handling
Problem Solving

At Home
You can practice tables, mental arithmetic and practical tasks – try to keep it fun – make it a challenge, e.g.
how many ways can you make 10/20
puzzle sheets involving numbers
practical work involving measuring
drawing shapes / patterns
playing board games with dice
There are good websites to help reinforce number and maths such as Woodlands School in Kent, www.topmark.com, www.primaryresources.co.uk etc.
Social Studies, Science, Technologies and Interdisciplinary Learning
In School
We will be developing skills in:
Knowledge and Understanding
Planning
Collecting Evidence
Recording and Presenting
Interpreting and Evaluating
Health and Wellbeing (including PE)
We will be ensuring that the children have a good understanding of the importance of keeping healthy emotionally, physically and socially and can identify ways of doing this. This will be embedded into the curriculum throughout the year. Our gyms days will be Wednesday (with Mr Davidson) and Thursday (with Mrs Scott).
Religious and Moral Education
The three main areas of study throughout primary school are:  Christianity; World Religions; Development of beliefs and values.
Expressive Arts
Children will be encouraged to develop skills in art and craft, music, drama and dance.  You can also encourage development in these areas at home.
We believe that a successful home/school partnership is the key to your child's enjoyment of and success in school. A supportive, encouraging approach ensures that your child learns to enjoy learning!
We look forward to working with you