Hi everyone at West Linton my name is Ellie Redfearn,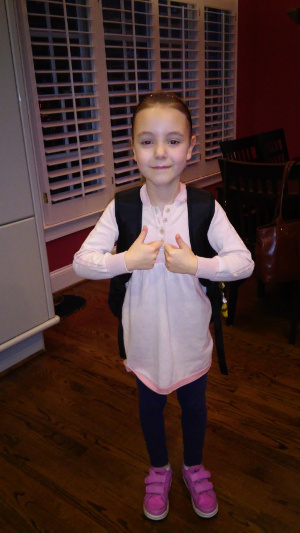 ​I used to be in primary 4 there-a special hello to Miss Dick and everyone in primary 4.
My family and I moved to Georgia in the United States at the end of last year and I wanted to share some pictures with everyone back home.
I like my new school which is called Berkeley Lake Elementary School and my new teachers Mrs DiBauda and Mrs Blum are very nice.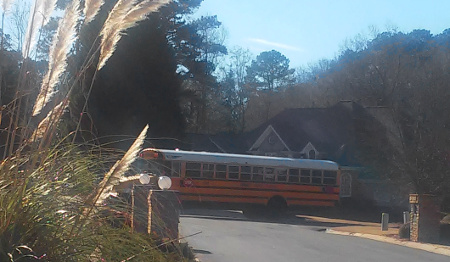 This is my school emblem and motto-we have a big Berkeley Bear in the corridor at school:

Our lessons start at 8am so I have to get up even earlier than in Scotland which is a bit rubbish-but our school buses are very cool-they have signs that come out and lights that flash when they stop and all the cars have to stop to let us off safely.
We start our school day with The Pledge of Allegiance-which took me 2 days to learn:
One of the subjects I have been learning is American Presidents, we have done Lincoln, Carter (who is from Georgia) and Washington so far. I enjoyed writing this letter to President Lincoln.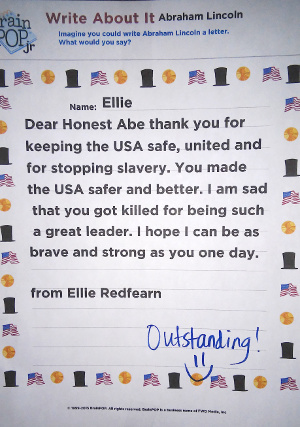 For the last 2 weeks we have had an incubator in our class with 11 eggs-we watch them every day and they have been rolling around and cracking a lot-these are the first few chick that hatched-they need to stay under a heat lamp which is red and we give them fresh food and water every day, I even got to hold one of them today-it was very fluffy and warm